Beretta 1301 Comp Pro 2019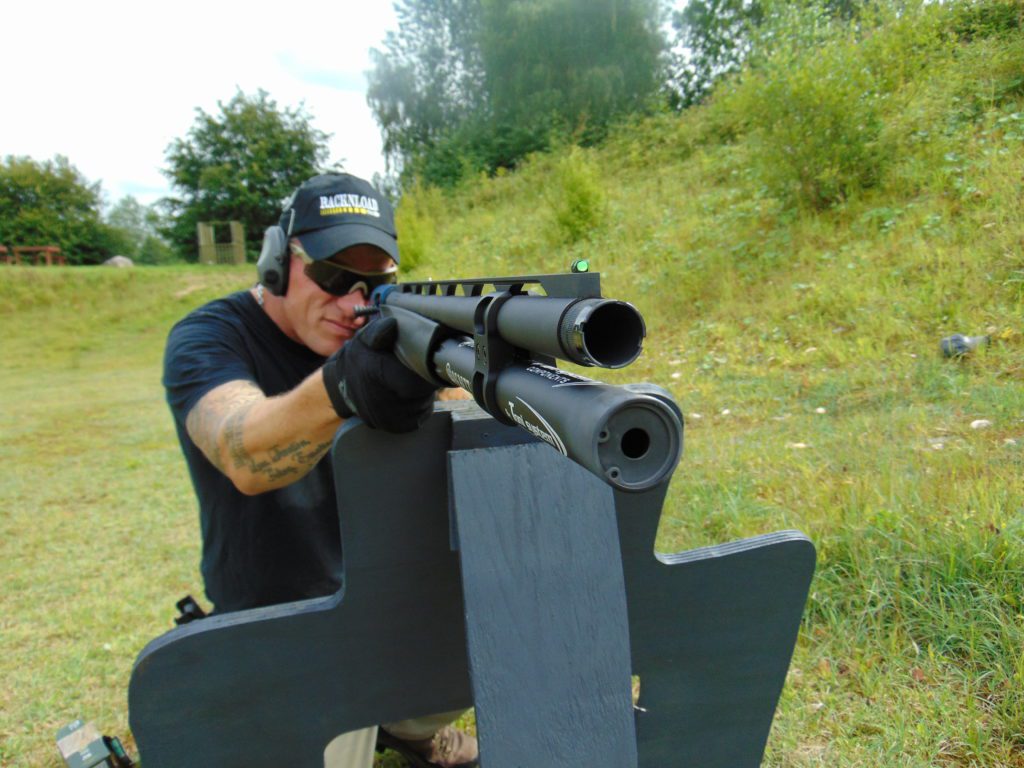 Beretta have Listened! Racknload checks out the new and very evolved 1301 Comp Pro.
It seems like a long time since I have tested a tube fed shotgun and the practical shotgun scene has gone a little box magazine crazy in resent times to be honest but I'm certainly not complaining though! But when a high-end manufacturer brings out a new tube fed, I get very excited!
Allow me to introduce you to the new 1301 Comp Pro from Beretta. I first got my hands on one of these back in March 2019 in Germany at IWA where Beretta unveiled this new shotgun to replace the original 1301. they have done a pretty damn good job too!
Before we dig deep into this review, original 1301 owners will notice that this new one comes already fitted with an extended magazine tube and barrel clamp. Hooray! I hear you all scream! At last Beretta, you have listened! For those of you that don't know, the original 1301 did not come with an extended tube which was a real pain as once had you purchased one you were then having to buy parts to get it competition ready. Finally, Beretta have listened to shooters on the practical circuit. Here you have a fully competition ready practical shotgun that doesn't need any customisation and is good to go straight out of the box.
Let's take a closer look then. Starting from the stock end, this is where a lot of the magic happens. This new gun is fitted with the very effective Kick Off system. This system is made up of four different components in the stock to help soak up the recoil. Firstly, there is the soft rubber recoil pad, not very exciting but it does do what it says on the tin! Then second and this is where it gets interesting, inside the stock just forward of the recoil pad are 2 recoil dampeners with return springs. These recoil shock-absorbing dampeners work just like shock absorbers on a car. With their return springs they reset in the blink of an eye too. Thirdly there is also another slightly larger dampener located inside the pistol grip where the stock bolt is which again works just like the previous two. Beretta claims that these dampeners alone reduce recoil by up to 40%! Now lastly, as if this isn't enough to help tame the recoil there is also what Beretta called the B Steady system. At the back of the pistol grip there is a soft rubber insert almost like a spacer. this allows the rear part of the stock to flex in a downward direction. In a nutshell the stock basically bends to help take the bump out of the recoil. So, there is a serious amount of engineering that has gone into this stock just to keep you guys comfortable! And it all happens in the blink of an eye shot after shot.
The material of the stock is a hard composite polymer with over moulded rubberized panels located where grip is needed such as the cheek piece, pistol grip and the forend. gone is the razor-sharp chequering in that the old 1301 had that you could literally grate cheese off! The over moulded rubber does feel good though and is almost sticky to the touch on the pistol grip and the underside of the forend. The latter I particularly find striking as it incorporates the Beretta logo and looks very nice.
But, this sticky over moulded rubber on the forend sometimes causes a problem when quad loading because when you push the first two shells in, the second two that you are holding in your fingers can catch forend's rubber grip and prevent a nice fluid movement.
Whilst we are on the subject of loading, it brings this nicely to the loading port and interestingly Beretta have not change this from the original, in other words, no more meat has been cut out of this area to further aid fast reloading. It's not a big issue for me at least but it will be interesting to see if any of these new guns get their ports opened up buy serious competition shooters. The main problem though has been sorted! One of the worst issues with the original 1301 was with the bolt release that if accidentally pressed whilst shooting would make the gun double feed and this would be disastrous if a shooter was running a timed stage. This is a major improvement on this new model and the button itself is much more sleek. Another great improvement regarding reloading is the fact that the shell lifter stays in the upward position once the gun is cocked so basically no spring loaded lifter to worry about pushing down to get your cartridges in. The previous model had owners welding or brazing theirs up to keep it open!
The trigger unit and safety catch are the same as the previous model. The trigger guard been made from a tough polymer with an oversized cross bolt safety catch Incorporated into it which is excellent. I pulled the trigger on my trigger scale at just over 4.5lbs just in case you trigger snobs are interested! As you can see, the receiver is finished in adonised blue which looks pretty damn sexy if you ask me! Stamped on the left-hand side is 1301 Comp and on the right-hand side again the same but with Beretta's logo at the rear of the bolt. The top of the receiver is drilled and tapped so you can soon throw on a rail for an optic if you wish. The Charging handle has not changed but it wasn't broken after all! It is oversized and offers plenty of grip.
Beretta still use their Blink system bolt which is super fast, just don't get your fingers trapped in it! Moving onto the forend, as I mentioned, just a little bit too grippy where it doesn't need to be i.e. near the loading port but apart from that it does feel really good in the hand and offers loads of traction albeit a different feel from its predecessor.
The extended magazine tube by Toni System Components is excellent and the fact that it comes as standard on this gun is a bonus. Most people add this as a gucci upgrade to their gun. You can effortlessly load it up to its 10 round capacity as the internal spring and mag follower are super smooth. A barrel clamp again by Toni, is fitted and not only does it keep the magazine tube from flexing but it also looks very cool too. Moving onto the barrel as you can see it has a 10 by 8mm ventilated rib and has a small rear bead and a front fibre optic sight to make target acquisition on those steels fast and positive! The tube itself is 24" long and is tri alloy hammer forged, chambered for 3" cartridges and comes with extended chokes which is ideal on a practical shotgun because you are able to change them or make sure that they are tight in between stages without any tools.
So how did it run then? Well, flawlessly! I put around 150 rounds through it using everything from birdshot, buckshot and slug shot. I used it with various different birdshot going no lower than 28g. I did several mag dumps with 10 + 1 cartridges loaded and I had no issues as far as functionality goes. Muzzle Rise was a little bit apparent but I think I would personally throw on a muzzle brake just to tame that slightly. The gun does feel well balanced though and weighs in at 7.1lbs. Accuracy was quite impressive as I reached out to about 80 yards to my 10" gong that I had set up on the range with slug and pretty much connected every time using Sellier and Bellot 1oz slugs.
Partnered with

My only gripe with this shotgun is the fact that with it being a gas operated gun, it will need to be stripped down and those gas ports will need to be kept clean to maintain reliability and this would mean taking off the barrel clamp via the allen screws then taking off the extended tube to disassemble the forend and take the barrel off, bit of a pain really but I guess tube fed guys are used to doing that!
So overall then, the new Comp Pro is an excellent well thought out competition shotgun that needs nothing doing to it and is good to go straight out of the box. I'm sure we will see plenty of them appear on the practical circuits in the near future and it will be interesting to see if anyone further customises it, not that it needs it! Safe shooting! Rack.
Name – Beretta Comp Pro
Type – 12g semi auto shotgun
Barrel – 12 gauge, 24"
Magazine – 10 round tubular.
Sights – Rear bead, front fibre optic
Weight – 7.1lbs
Length – 47"
Price – £1700 approx.
Contact – GMK